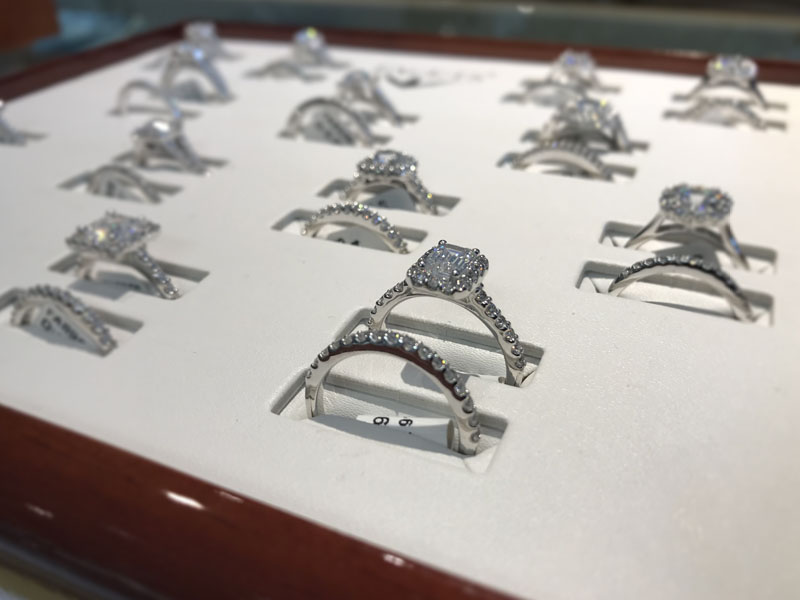 Diamonds & Designs To Last A Lifetime
Whether you're looking for a completely custom-designed diamond or a timeless classic, Facets offers the perfect diamonds and custom design capabilities. Facets has a dedication to providing high-quality stones and a wide array of different design collections to ensure that they have the perfect diamond for even the most discerning Bride-to-be.
As a local small business ourselves, Elliott's Jewelers proudly stocks Facets diamonds. Facets has been based out of Boston, Massachusetts for over 50 years, performing every aspect of production in their manufacturing facility. From designing and casting to setting and finishing, their dedication to quality and variety has led to fast development and an escalation to a well-known national wholesale diamond supplier.
Here at Elliott's Jewelers you can browse through our vast inventory of Facets diamonds which we carry for a variety of different collections. You can also contact our friendly and knowledgable staff to help you find the perfect design from Facets' extremely diverse catalog.
ABOUT ELLIOTT'S JEWELERS
At Elliott's Jewelers, we cater to all tastes and preferences with our vast collection of classic jewelry, modern pieces, and even combinations of both styles. Our staff also provides expert jewelry repair to restore your cherished pieces back to prime condition. And if you ever have any questions, our friendly assistants are happy to help!
 For more information, contact:
Elliott's Jewelers
Servicing The Fitchburg Community Since The 1930's
BUSINESS HOURS
Mon: Closed
Tues: 9:00 AM – 5:00 PM
Wed: 9:00 AM – 5:00 PM
Thurs: 9:00 AM – 7:30 PM
Fri: 9:00 AM – 5:00 PM
Sat: 9:00 AM – 2:30 PM
Sun: Closed
[email protected]