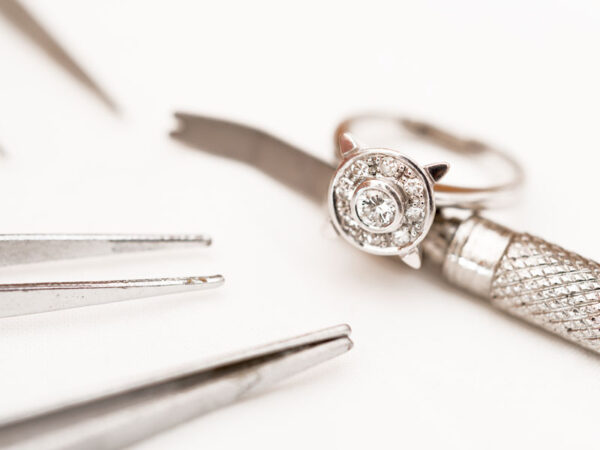 Entrust Your Jewelry To A Professional
Whether your jewelry pieces are worn daily or are stored away for years, there is always a risk of wear and tear as well as signs of the aging process on metals and gemstones. If your jewelry is beginning to show early signs of wear and tear or aging, it is important to have the damage assessed and professionally repaired before your pieces degrade into a state of disrepair, when repairing would exceed the cost of replacing the piece entirely.
Here are some helpful tips to keep your jewelry in peak condition:
-Always store in a dry place
-Remove jewelry when swimming and/or bathing
-Put on jewelry after putting in hair products or applying makeup to reduce chemical exposure
-Store away from direct light & heat exporsure
-Only have cleaned by professionals
Our team of professional jewelers at Elliott's Jewelers has decades of experience repairing and restoring both antique and modern pieces. Throughout our process of repair and refinishing, our Jewelers place a heavy emphasis on jewelry care. Every piece that enters our store is taken care of in a professional manner, assessed and repaired with meticulous attention to small details. Our Jewelers are always upfront and honest in regard to our repair process, the extent of necessary repairs, and cost of repair for any piece that is entrusted to us. Because as we see it, our clients are entrusting us with what are likely some of their most valuable possessions, and they should be treated as such no matter what.
If there are pieces within your collection that have either been neglected over the years or that you wear each and every day that could use some professional care and attention, do not hesitate to contact us today. Our staff of trained and highly experienced Jewelers will provide you with a professional assessment of the necessary repairs that will leave your valued pieces in a like-new condition.
ABOUT ELLIOTT'S JEWELERS
At Elliott's Jewelers, we cater to all tastes and preferences with our vast collection of classic jewelry, modern pieces, and even combinations of both styles. Our staff also provides expert jewelry repair to restore your cherished pieces back to prime condition. And if you ever have any questions, our friendly assistants are happy to help!
 For more information, contact:
Elliott's Jewelers
Servicing The Fitchburg Community Since The 1930's
BUSINESS HOURS
Mon: Closed
Tues: 9:00 AM – 5:00 PM
Wed: 9:00 AM – 5:00 PM
Thurs: 9:00 AM – 7:30 PM
Fri: 9:00 AM – 5:00 PM
Sat: 9:00 AM – 2:30 PM
Sun: Closed
[email protected]